Latest
The British Science Association launches new community engagement programme – The Ideas Fund 
27.01.21 By Beth-Louise Sturdee
The British Science Association has today launched its latest funding programme – The Ideas Fund – to enable the UK public to think about, develop and test ideas to help improve mental wellbeing in the area where they live. 
The  Fund, which has been supported by the Wellcome Trust,  has been designed to help people tackle problems that matter to them by connecting them with research professionals who can help bring their ideas to life. 
Initially the Fund will focus on ideas related to mental wellbeing, with £3.29m funding to support community initiatives in four geographical areas of the UK: North West Northern Ireland, the Scottish Highlands and Islands, Oldham in Greater Manchester and the city of Hull. 
To coincide with the launch, the BSA has also released the findings from its 'Mental Wellbeing in the UK' research, revealing that one in five (21%) of the UK adults surveyed by YouGov described their mental wellbeing as poor; and nearly half (46%) said their wellbeing had worsened since coronavirus restrictions were first introduced across the country back in March 2020.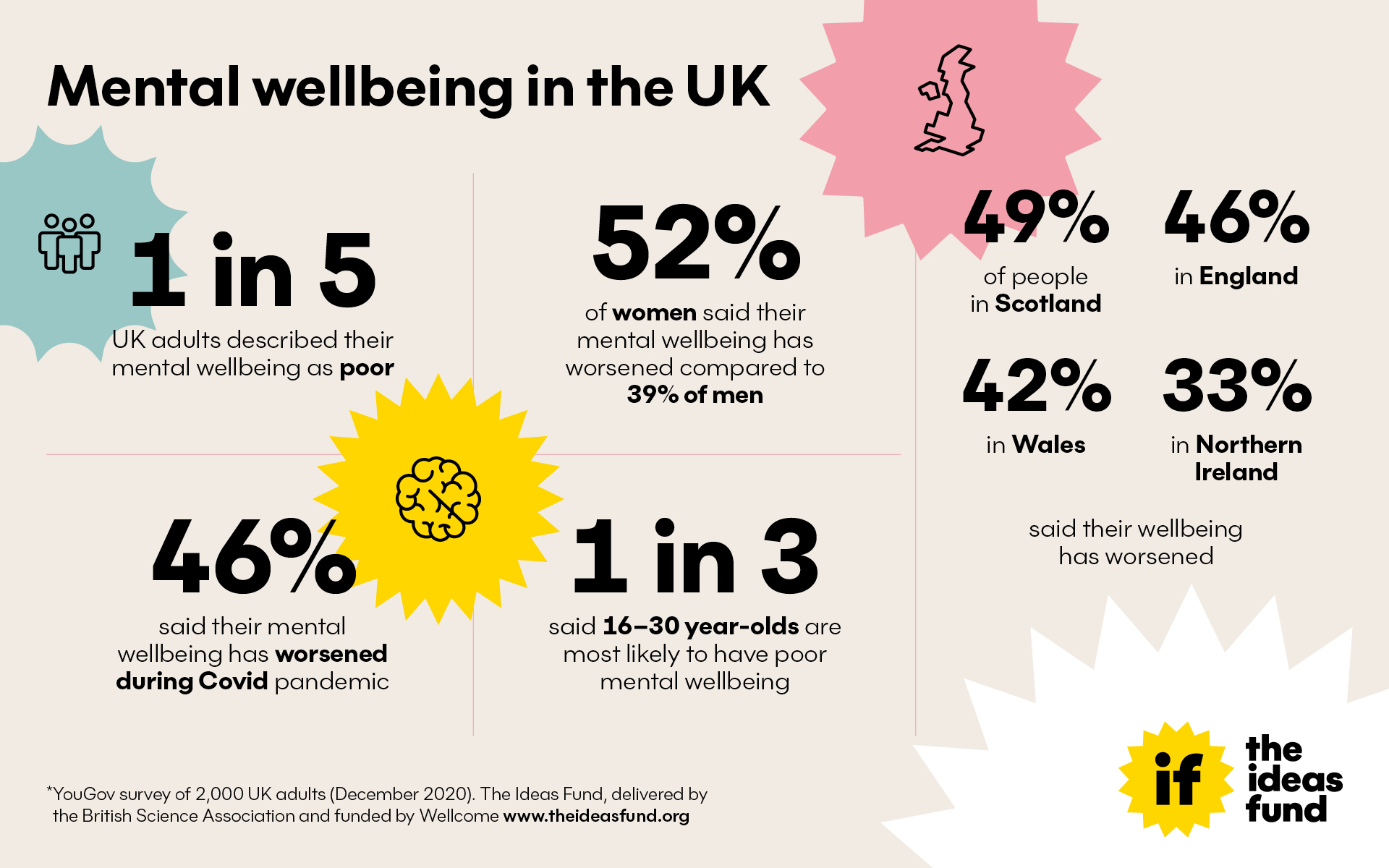 The survey also highlighted some regional differences across the UK, including that a higher percentage of people in Scotland (49%) said their mental wellbeing had worsened compared to those in England (46%), Wales (42%) and Northern Ireland (33%).
More women (52%) than men (39%) said theirs had deteriorated, and Unemployed people (40%) and full-time students (28%) were most likely to describe their mental wellbeing as 'poor'; and homeowners (56%), retired people (63%) and those with a gross annual household income of £45,000+ (53%) were most likely to describe theirs as 'good'. A third (34%) of all UK adults surveyed said they thought young people aged 16-30 were most likely to have poor mental wellbeing in the area where they live.   
Additional research by YouGov for the BSA also found lowered levels of trust in health scientists and researchers as sources of information, compared to previous polling conducted for Wellcome at the start of the UK's first coronavirus lockdown. Only 64% of those surveyed said they now have complete/a great deal of trust in them, compared to 72% back in April. The percentage who said they trusted them very little or not at all has doubled from 5% to one in ten. 
The number of UK adults who said they now had complete trust in Government scientific advisors (12%), The World Health Organisation (17%), the UK Government (4%) and the Prime Minister (4%) as sources of health information had also significantly reduced since the spring of 2020.   
Despite this reduced level of trust in national and global sources of information during the pandemic, the research also found significant public interest across the UK in local interventions to raise awareness of the latest developments in mental health research and to improve mental wellbeing in their community. One in three (35%) said more community action is needed; and nearly half (47%) of those surveyed said they would be interested in taking part in community activity designed to understand and improve mental wellbeing in the area where they live.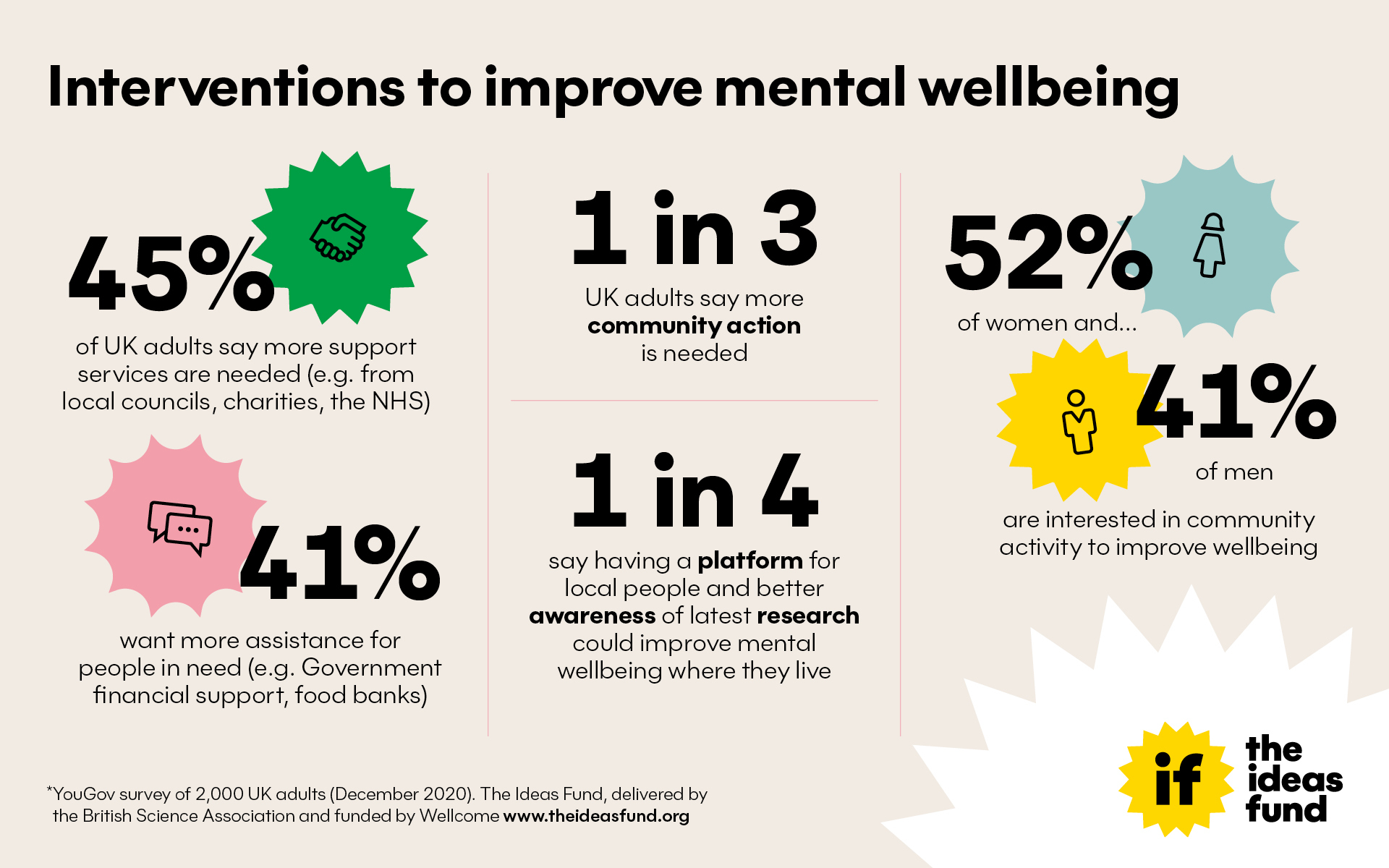 Delivered by the BSA and funded by Wellcome,the Ideas Fund supports the BSA's belief that science is about ideas that can and should come from anywhere and Wellcome's commitment to funding ideas that empower people, lead to better research and enable science to solve urgent health challenges.
Reaching individuals and groups who have been overlooked by health research in the past is a key aim of the Fund – particularly in rural or minority ethnic communities, amongst the young, marginalised and socioeconomically disadvantaged people. 

Katherine Mathieson, Chief Executive of the British Science Association, said: 

"The Ideas Fund not only encourages traditionally underserved groups of people in the UK to engage with health research, it aims to put them in the driving seat – by involving them in the design of the Fund and decisions on the ideas and projects that receive funding.    
"We've brought together community representatives, researchers and people with expertise in involving people in science to help design the programme. Members of the public told us that they were excited by opportunities to engage with health research and had lots of ideas, but they would like support at both the application and grant award stages and may also need introductions to researchers to partner with. The Fund has been designed to support people and ideas with potential and to bring communities and researchers together. 
One in four (26%) of the UK adults surveyed by YouGov said that increasing awareness about the latest developments in mental health research could improve mental wellbeing in the area where they live; and 27% said having a platform through which people from the area are able to collectively say what is needed in the area could also help.  
The research revealed there is interest in community involvement across all age and income groups. 48% of 18-24 year olds, 50% of 25-34 year olds, 51% of 35-44 year olds, 47% of 45-54 year olds and 44% of people aged 55+ said they would be interested in taking part in community activity to improve mental wellbeing in the area where they live.  
Household income was not a barrier to being interested in getting involved in community activity, with similar levels of interest expressed by adults living in households with an income of up to £10,000 (46%), £10,000 to £30,000 (47%), £30,000- £50,000 (50%) and those above £50,000 (50%).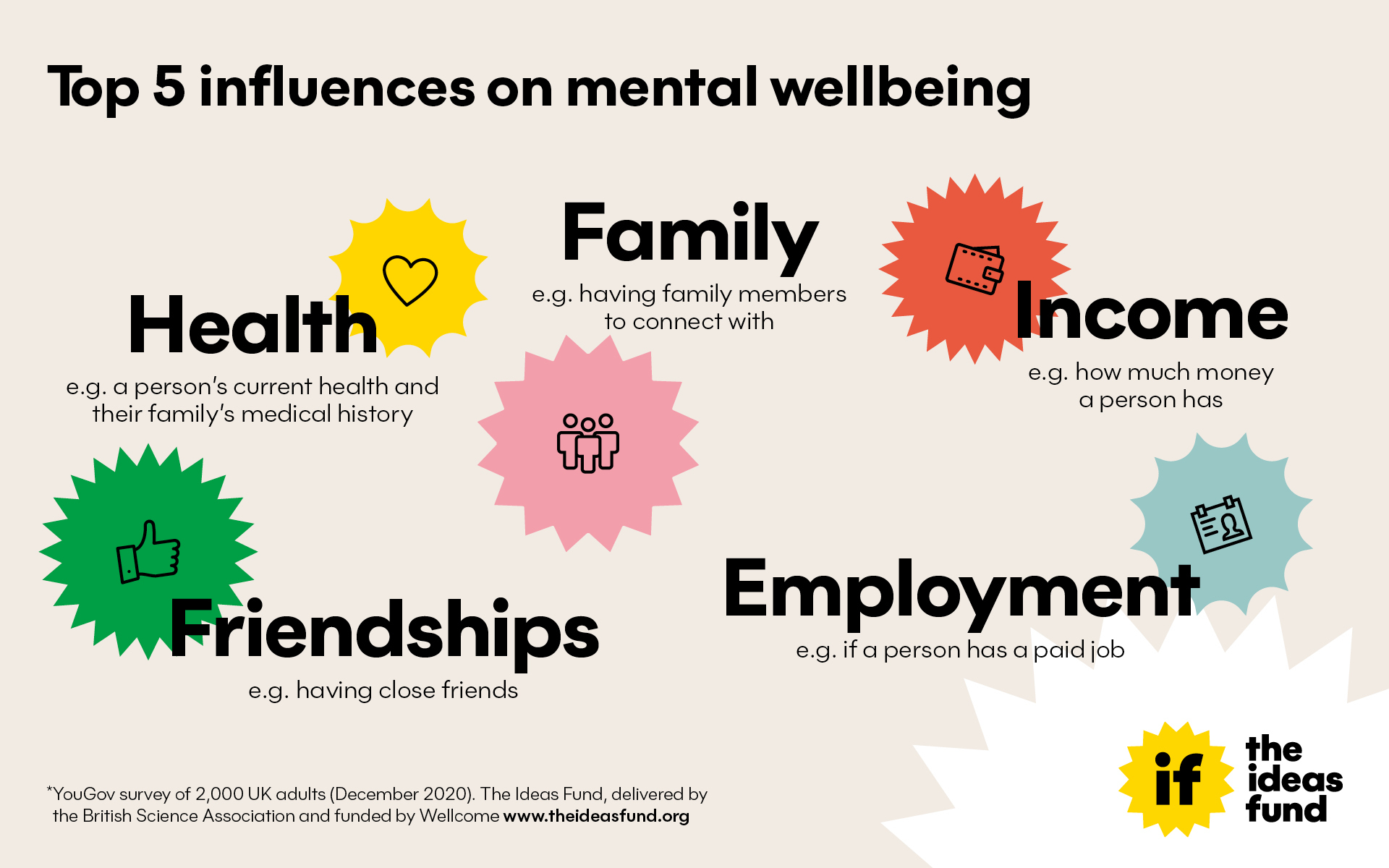 A person's income was, however, identified as one of the five most important influences on a person's mental wellbeing. The five top-scoring answers in the research were Health (80%) (a person's physical health and family health history), Family (79%) (having family members to connect with), Friendships (79%) (having close friends), Income (73%) (how much money a person has) and Employment (73%) (if a person has a paid job). 
The Ideas Fund will help to test and explore factors that impact on our mental wellbeing, through people-powered ideas and collaborations between communities and researchers.   
Lara Clements, Wellcome's Associate Director, Public Engagement & Campaigns said:    
"At Wellcome we see local communities and the public as vital partners in our mission of solving the urgent health challenges that affect everyone, and The Ideas Fund will be an innovative and important new way to connect people with the research that matters to them. I'm delighted to be working with the British Science Association to launch it."